Another Monday, another set of hippies carted off in zip tie handcuffs.  No worries though, the over $60k in costs to taxpayers are being cut down because they are no longer being fingerprinted and photographed. They're just arresting them for show now. Isn't that fun?
Don't worry about money though. Reverend Barber has it covered:
While the Rev. William Barber, head of the NC NAACP, likes to call opponents extremists and rant about the immorality of legislative actions, he never mentions one important detail concerning his personal interest. An organization associated with his church, Rebuilding Broken Places Community Development Corporation, of which he is the founder and still chairman, has bellied up to the taxpayer buffet to the tune of over $1.15 million in recent years. – Civitas
Barber is also on the board at NC Justice Center, the same group pushing Moral Mondays all over Twitter using both their own account and their propaganda arm, NC Policy Watch.  Barber is of course more worried about the morality of people losing extended unemployment than the morality of putting millions of taxpayers on the hook by racking up more federal debt.  ConMom has some comments on that:
Related: North Carolina first state to cut long-term jobless benefits, protesters rally against change | Fox News

"We owed $7.1 billion in state debt," said state Sen. Thom Goolsby. "And on top of all that, we owed the feds $3 billion in unemployment insurance. So, we have been trying to get our fiscal house in order."

Republicans, who control North Carolina's governorship and both chambers of the legislature for the first time in more than a century, say they have a mandate to restore financial stability to a state that nearly went bankrupt under Democrat leadership.

Yes, they did. Worth noting is that it was no small effort to flip the NCGA to Republican control. The voters had to flip over 28 seats.  This wasn't just historic, it was an unprecedented public statement on what the voters thought of the Democrat leadership, or rather, lack thereof. By naming the movement 'Moral Mondays', they have condemned the voting public as somehow immoral for wanting to keep the state solvent.   Carolina Journal has more along these lines.
Indeed.
Well at least their crowd size has stabilized and only has NC protesters: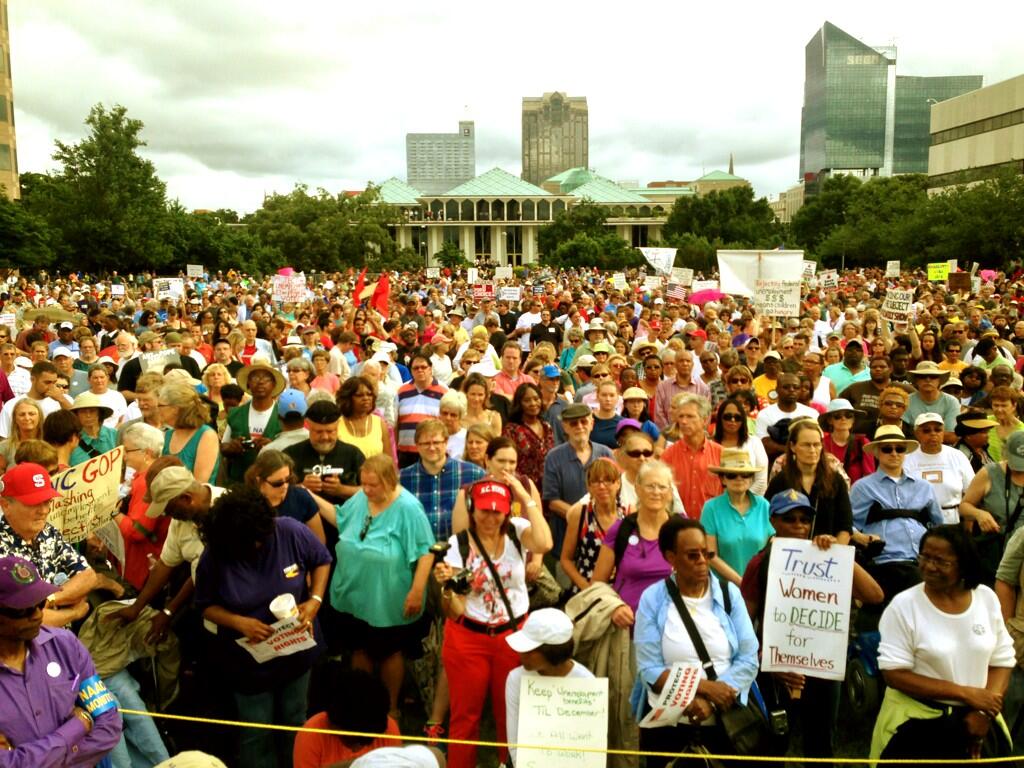 Or maybe not:
#moralmonday RT @DanaDcope: Sorry to NC for NY union outsiders. It's really a war between rival locals w/i SEIU international #ncpol #seiu

— Mike Rusher (@mjrusher) July 1, 2013
.@1199SEIU sent 2 NY buses to Raleigh to support Rev Barber but SEIU international nor SEIU-NC support moral Mondays #ncpol .@SEIU

— Dana Cope (@DanaDcope) July 1, 2013
There were SEIU Vans too according to pictures posted on Facebook by NC Rep Carl Ford.
Keep estimating your own astroturfed crowd! After last week's estimates of 2,000 then 3,000 then 6,000 and finally the NAACP topping it all at 8,000 and then looking like idiots when park police estimated 1,200… you'd think they would have learned? Nope.
Big crowd, y'all! @NAACP: Largest yet: RT @ncnaacp: #MoralMondays #ForwardTogether pic.twitter.com/yfX50BOeKu A movement for the people of NC.

— Traction (@getTraction) July 1, 2013
Anyway, on to the drama and what we now know are basically fake arrests.
Charlotte Observer cites "nearly 80" in their melodramatic report that 170,000 will lose extended benefits.
ABC11 is saying it is 82 and that 70,000 will lose benefits right now with 100,000 down the road. ABC11 at least stated that Republicans took control in January, implying the mess was made by the Democrats.
Moral Mondays shill, WRAL, didn't even run the story on their front page, but cited 72 arrests. In fact, their story and ABC11 looked like AP copies. Have no fear, the comedy team of Binker and Leslie made sure to do a video from the protests. It was painful to watch – clearly two personalities meant for print. Leslie name dropped a few liberal rags that have run stories on it and managed to throw in a jab at the GOP.  Atta girl, what a pro. So, was it nearly 80, 82 or 72?  Do you care? Didn't think so.  Neither did the legislature — most the House wasn't even there today and the Senate had a modified schedule.  So, they were chanting in the wind. Good times.
Some quick highlights from Twitter
Liberal University Indoctrination 101 Team was there:
Duke University Professors on #MoralMondays NC Protests (video) http://t.co/68ulXOc8UJ via @newblackman — allison brown (@henrystreetedit) July 2, 2013
 Oh, I nearly choked laughing at this one. Religious Progressives is an oxymoron, sweetie.:
#MoralMondays: Religious #Progressives Protest #NorthCarolina Policies http://t.co/sevi6zPDkX #NC #politics #ows #occupy #VRA #ctl #p2 — Serpentine202 (@Serpentine202) July 2, 2013
There were apparently some sort of games involved this time:  
Runners for justice on 7th lap around leg bldg to bring walls of injustice down #moralmondays — Sharon Waidler (@sewusew) July 2, 2013
Oh, The Liberal Bible covered the protests apparently:  
National news, again. @KC52inNC: TIME MAG covers:#MoralMondays: Progressives Protest NC Policies http://t.co/LEY8CAPQIl — Traction (@getTraction) July 1, 2013
I hope they get a raise:
Says the Communications Director of the Buncombe Co Republicans. RT @NWestAVL: @JeanneBonds4NC 630 dummies #MoralMondays #rebranding #ncpol — Dmitri Ravinoff (@RavenRavinoff) July 1, 2013
Texas can't have all the fun with kids holding protest signs depicting wire hangers:
Very proud aunt: at 2 and 4, my niece and nephew went to their first protest to stand up for social justice. #moralmondays

— Christina Reynolds (@creynoldsnc) July 1, 2013
Wow. Stay classy.
Finally:
Rev. Dr. William J. Barber II: "Somebody Must Raise a Dissent!" #MoralMondays http://t.co/Bf7qLfyXDH

— Brotha Wolf (@BrothaJamesWolf) July 1, 2013
Someone did raise dissent. The voters… when they punted the Democrats out of office.
Side Notes: There is now a Moral Mondays twitter account. NC Moms Rising, NARAL and NC Student Power Union were also there. More to come on those groups and Traction too. Stay tuned and look for #RecycledActivists on Twitter.
Related Reading:
Related Articles by LL1885: