Well, this week was no "MEGA" Moral Monday, but it did indeed go on. Hundreds even showed up. That kind of deflation back to real numbers is what happens when the SEIU buses leave town and take their astroturf with them. The media blew off the 3 buses bearing NY and NJ plates that my source says were parked nearby the protest, by the way. Now protesters had to bus themselves in and that ended up not working out so great as Sister Toldjah notes:
Anyhooo…
Occupy Raleigh was there taking live video. They really want you to go look at it or something.
The desperation is really starting to take its toll. The most prominent sign on Twitter was attacking the 'Eeeeeevil Koch Brothers'. Muahahahahaa!!!!  Really people? Get some new material or stick to your original gripes. This is embarrassing: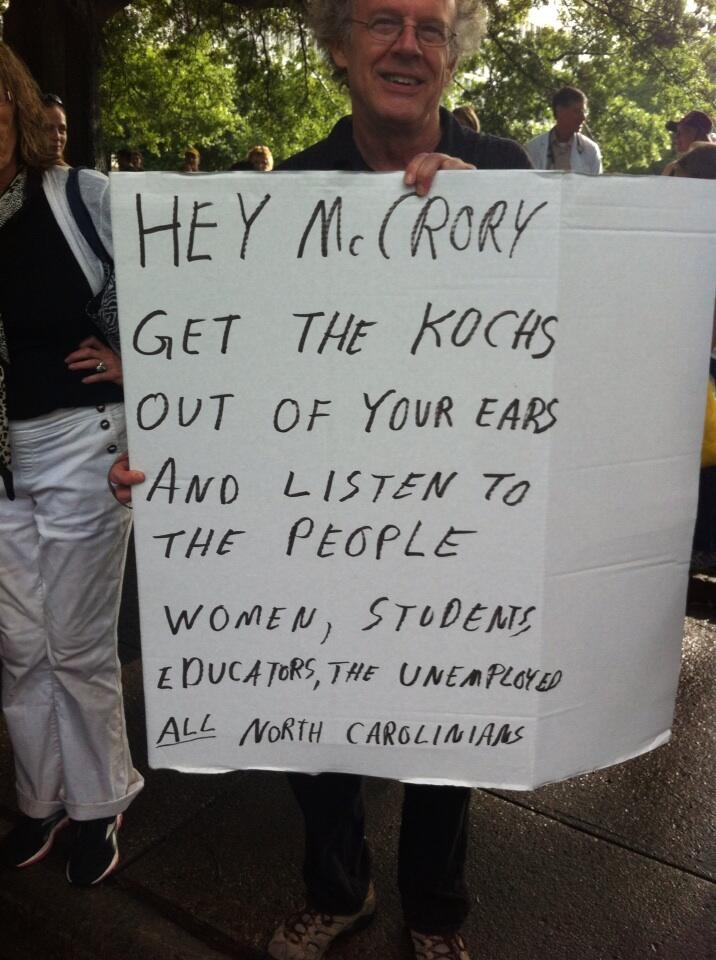 Yawn. Oh and not to be outdone, there was foot stomping and finger wagging over the also eeeeevil Art Pope, Super-Villain at large:
Ah yes, the "villain".  #Yawn MT @Xavier_onassis: @NCCivitas Bet they represent more of us than Art Pope and Civitas do.#MoralMonday

— LL1885 (@LadyLiberty1885) June 10, 2013
The typical chants were employed. God they get old fast:
What do we want? Justice! When do we want it? NOW!!! #moralmondays#NCpic.twitter.com/KGr4LWDCEL

— Occupy Astoria LIC  (@OccupyAstoriaLI) June 10, 2013
Here's your obligatory stress relief moment after viewing that hot mess:
Oh alright, Fine. I'll cut to the arrests. That's what you're likely here for anyway. The claim is it was 60 this time. Oh wait, sorry "More than 60" this time. Boy were the crowds happy to see them go! They even chanted "Thank you!"
First busload of arrestees pulls away. Crowd is chanting "thank you" #moralmondays @NAACP pic.twitter.com/bsmvXLftwc

— Jennifer W Roberts (@JenRobertsNC) June 10, 2013
Oh wait.. they were thanking the pawns for getting arrested.
The mugshots and records are not up yet on the Wake county site, but I'll be sure to post them all tomorrow. Stay tuned!
UPDATE: Only 5 arrests have been posted yet. The arrest update will be delayed.