It's Moral Meltdown Monday again in Raleigh! It's not just Any Moral Meltdown Monday, it's…
"MEGA" MELTDOWN MONDAY!
For more about Barber and his arrest antics read: Playing the Bus Card
Everyone get excited for more arrests, chanting and festivities in front of the state
legislature! By the way, no one gets arrested at these things that doesn't want to be. It's a stunt for media attention.  The gang will all be there, with the NAACP and AFL CIO leading the charge.  Oh and Occupy Raleigh is going to show up too, what fun! We know how mostly peaceful things stay when Occupy joins in. Sorry if I seem a little flip about these protests, but living in the Triangle region makes one a little fed up with Barber and his endless three ring circuses.
This MEGA Meltdown Monday is special though, it even have a snazzy video complete with slogan:
Join the Forward Together Movement for a Moral Monday Mass Rally and Action on Monday, June 3, 2013 at 5:00 pm. The 5th Wave of Moral Mondays will lift up three pillars of democracy: Education, Economic Justice and Voting Rights.

"Don't try to make this about Black and White, this is about right and wrong!" – Rev. Barber
Yeah, whatever. Nothing is about right and wrong with Barber. He's not interested in what's right, he's just interested in slamming Republicans no matter what and has been ever since they took control of the NCGA. Everything is about Black and White to Barber, because RACISM! So shut up you Teabaggers!  Now go read this misleading lede from WRAL's 'professional journalist' Laura Leslie and hush.
Forward together. Hmm Heard that before! RT @durhampeoples: Preparing for Moral Monday! #ncpol #ncga pic.twitter.com/xryQKnfCaD

— LL1885 (@LadyLiberty1885) June 2, 2013
The NAACP sure is fired up. They're even doing a statewide tour, so no one will miss out on the arrests:
The Forward Together Movement Mobilizes Local Communities to Fight Back Against Extremism in NC General Assembly

RALEIGH – The 25-stop Forward Together Movement Local Organizing Tour will launch tomorrow in Raleigh and crisscross North Carolina over the next two weeks, spreading the word about the Tea Party-backed extremist forces who have high-jacked the NC General Assembly.
More video and outrage at the NAACP site. You know, the NAACP in NC is a 501(c)4. Wonder if they were harassed by the IRS?  Hmm. Well, it doesn't matter because the Executive Council of the North Carolina Democratic Party passed a resolution today:
Resolution in Support of Moral Mondays
"WHEREAS, our great state of North Carolina is being dragged back into the 19th Century by Republican legislators passing regressive legislation signed into law by Republican Governor Pat McCrory.
THEREFORE BE IT RESOLVED, that the the North Carolina Democratic Party supports the Moral Monday effort at the NC General Assembly to show our objection to these regressive actions; and
THEREFORE BE IT FURTHER RESOLVED, that the North Carolina Democratic Party encourages Democrats to go to the NC General Assembly in Raleigh to support Moral Mondays."
"Regressive actions" translated = THAT'S RAAAACIST!
Updates will be posted after the mayhem ensues, that is of course unless they get rained out which is highly likely given the forecast.
UPDATES SECTION:
10:40 AM Update – NARAL joins the party:
Today's the day! Mega Moral Monday at 5pm today at bicentennial mall across from the #ncga. Will you be there? #shedecides#moralmondays

— NARAL Pro-Choice NC (@NARALNC) June 3, 2013
And Occupy.. with live stream. No such stream is found yet on Ustream as of this morning.:
RT @AmirisLive: Today I will be streaming live from #Raleigh#NC for #MoralMondays around 5pm on #UStream#AmirisLive. #OccupyColleges#OWS

— Casey Aldridge (@CaseyJAldridge) June 3, 2013
This Amaris Brown person is quite the charmer.
1:30 PM Update- Melissa 'All your kids are belong to Us' Harris Perry to attend?
Welcome! Via @MHarrisPerry Headed to #NC to cover activists who take part in #MoralMondays @ capitol every week protesting radical NC agenda

— Advancement Project (@adv_project) June 3, 2013
1:45 PM Update – I snarfed my drink laughing at this parody with accompanying image below
Oh, we have a shout out from the left:
Are you coming to the #MoralMonday event tonight? Here's why you should: http://t.co/8Wuy9UCV1G#reoccupy#ncleg#ncpol

— Raleigh 99% (@TheRaleigh99) June 3, 2013
5:30 PM Update – Occupy Raleigh offshoot, NC Student Power Union, posts this on their Facebook page:
LiveStream Feed here. Sounds is missing. Fail.  As I said, the whole point is to get arrested:
RT @magggiewalker: Ready to get arrested #MoralMondayshttp://t.co/JIq7t8U46A#occupyNC#ows

— Casey Aldridge (@CaseyJAldridge) June 3, 2013
And having to prove who you are to vote is, of course, voter suppression – so sayeth race hustler Reverend Barber:
"It is extreme and immoral to engage in voter suppression tactics." -Reverend Barber #MoralMondays

— me llamo anise. (@Aniseyy) June 3, 2013
Official crowd estimate for Moral Monday protest @ncga today: 1,000, per police. Biggest yet. 150 arrests expected. #ncpol #ncgov

— John Frank (@ByJohnFrank) June 3, 2013
Hasn't occurred to anyone that this one has more people because every lefty group out there decided to show up.
#LGBT activists stand united for Moral Mondays via @qnotescarolinas http://t.co/WWxAx0DTre #LGBTsouth #ncpol

— Equality NC (@equalitync) June 3, 2013
More pictures via @Tori_Bragg on Twitter:
The Halifax Mall. #NCGA#ncpolpic.twitter.com/ZwaZhggkfJ

— Tori Bragg (@tori_bragg) June 3, 2013
No, actually… this is the Left throwing a temper tantrum and protesting the GOP just to protest the GOP:
This is the south. Justice. Freedom. #ncga#ncpol#MoralMonday

— Jeanne MillikenBonds (@JeanneBonds4NC) June 3, 2013
5:45 PM Update – Oh look, Lefty Mayor Chilton has decided he wants to be arrested too. Felt left out I guess. Stay classy!
Protest organizers say they expect abt 100 arrests tonight at #NCGA. Carrboro Mayor Mark Chilton is said to be one of them. #ncpol

— WRAL Gov't Coverage (@NCCapitol) June 3, 2013
Another picture via @JustinConley on Twitter:
5:55 PM Update – We find the hackneyed and tired 'GOP hate the poor' meme. I'm sure a social justice tweet is out there somewhere too.
The general assembly and governor of are engaged in a potent pervasive war on poor and low income n. Carolinians – gene Nichol #moralmondays

— John Remensperger (@jreme100) June 3, 2013
Just like I said, no one gets arrested that doesn't want to be:
Over 150 people just went into the NC legislative building to be arrested in protest of a plethora of backwards legislation #MoralMondays

— Maggie Walker (@magggiewalker) June 3, 2013
And now for a LOL:
Socialists unite! RT @democracync A fired up crowd is starting to gather behind the #ncga for Mega Moral Monday #ncpol

— Tar Heel Troll (@tarheeltroll) June 3, 2013
6:06 PM Update: Planned Parenthood in the house – because, MY BODY MY CHOICE…and YOU PAY FOR IT OR ELSE!
It's immoral to lie to kids, deny women prenatal care, attack women's health #forwardtogether #ncga #ncpol pic.twitter.com/n1E9veTMmN

— Planned Parenthood (@PPHSNC) June 3, 2013
And now for a moment of truth:
Primary goal of #MoralMondays is for far leftists to get arrested & put it on their "civil disobedience" resume. Laughing hard. #NCGA #NCPOL

— Sister Toldjah (@sistertoldjah) June 3, 2013
@LadyLiberty1885 it's all about attention. Most activist liberals are narcissists at heart. #NCGA #NCPOL #MoralMondays

— Sister Toldjah (@sistertoldjah) June 3, 2013
Followed by a LOL:
That's 20,000 easy RT @JeanneBonds4NC: Police say 1000. I say more. 150 inside #MoralMonday #ncpol #ncga pic.twitter.com/gtUt6BpZbS

— Bob Etheridge (@BOBETHERlDGE) June 3, 2013
Now it comes out why the big crowd, NC Justice Center sent out an attack mailer and it was written up by none other than WRAL hack, Laura Leslie :
@wralm, I mean, @NCCapitol send out partisan attack mailer http://t.co/sVmyCUIyOh #ncga #ncpol

— RealLiberalHack (@LiberalHack) June 3, 2013
Did @LauraLeslie & @binker write the copy for the @ncjustice inaccurate mailer? http://t.co/sVmyCUIyOh#goodwork#blueprintmemo#ncga#ncpol

— RealLiberalHack (@LiberalHack) June 3, 2013
Melissa 'All Your Kids Belong To Us' Harris Perry actually showed up (via Sean Langberg on Twitter):
And another Occupy/NC Student Power person who wants to be arrested:
Shout out to another NCSU student power member getting arrested today pic.twitter.com/qdsWE4ipDY

— Student Power NC (@StudentPowerNC) June 3, 2013
6:20 PM Update – The buses are ready to haul off those who are just dying to get arrested. Crowd being told to disperse.
Div of Prison buses parked by the #ncga prepared to haul arrested protesters to prison #ncpol pic.twitter.com/YSDI6enANn

— Pricey Harrison (@priceyharrison) June 3, 2013
#popcorn cc: @LadyLiberty1885 RT @astrogirlnc: #moralmonday being told now to disperse in 5 min or will be arrested #NCPOL #NCGA

— Sister Toldjah (@sistertoldjah) June 3, 2013
WRAL makes sure everyone knows creepy Melissa Harris Perry is there:
MSNBC's Melissa Harris Perry at #ncga for protest. #ncpolpic.twitter.com/urkeSAgDlN

— WRAL Gov't Coverage (@NCCapitol) June 3, 2013
Quote yanked from Twitter:
 In Raleigh NC at the Moral Monday protest against the extremists conservative state legislative agenda." – Melissa Perry Harris
Extremist? You mean like the state taking care of our kids instead of parents? My God that woman creeps me out.
Occupy makes sure they're being paid attention to:
I'm broadcasting "Occupy NCSU #moralmondays" live on @Ustream. Come watch and chat! – http://t.co/ER9ABw0X7W (6:21pm)

— Occupy NCSU (@OccupyNCSU) June 3, 2013
6:27 PM Update- And…. TOUCHDOWN!  National attention in order to attempt to shame the NCGA, of whom the people elected to clean up the Democrat mess left by Perdue and her ilk:
.@MHarrisPerry Excited that you're covering the story. NC #MoralMondays is a movement that should garner natl media attention.

— NAACP (@NAACP) June 3, 2013
And the Mayor of Carborro just got arrested. What a resume enhancer! Via Dianne Gallagher on Twitter: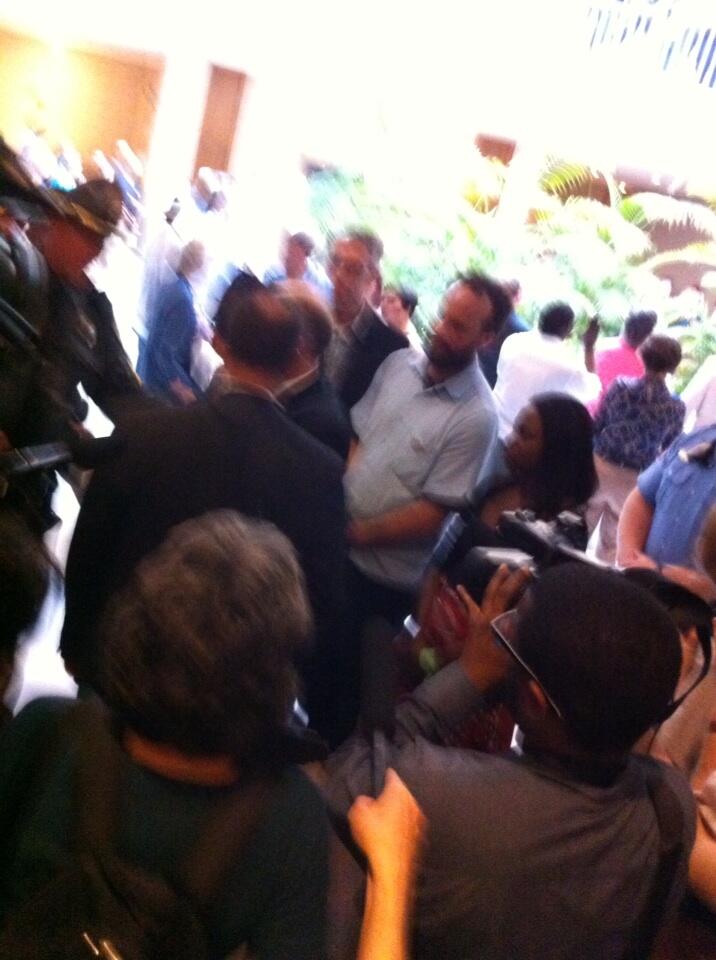 More arrests are now happening. I'm not linking to them — the attention is what they want. It's the same tactic used by Occupy. Color me not only unimpressed but embarrassed for them.
6:35 PM Update – More arrests. I'll have the tally later as I am sure WRAL will post it since they were there. Only ones of real note are 4 Carborro Aldermen and the Mayor of Carborro.  Quick rundown of the attendees list which is a who's who of the Organized Left in NC :
NAACP
AFL-CIO
SEANC
NCAE
Occupy Raleigh
NC Student Power Union
Occupy NCSU
NARAL
Planned Parenthood
NC Justice Center
Special Guest Star: MSNBC's Melissa Harris Perry
LINK UPDATES & THANK YOU'S: