*This is a reposting of my weekly column at DaTechGuy Blog.*
---
By A.P. Dillon
I've just gotten back from the Common Core call to action event, We Will Not Conform and my inbox has exploded. While I want to write about that experience in this article, I'm stepping away from it for a moment to write about something else. If you want to catch up on the We Will Not Conform, hit my personal blog.
In this article I'd like to touch on American Bridge and their stalker-like videos.
Taking a video of a politician leaving a fundraiser isn't necessarily creepy in and of itself. It's having an outfit like American Bridge dedicated to basically stalking those they politically disagree with that seems to take this to a stalker-like level.  Congrats David Brock, your American Bridge project is the politics equivalent of the bottom-feeding celebrity paparazzi.
American Bridge has hit Speaker of the NC House, Thom Tillis with one of their videos. Tillis is running against Democrat Kay Hagan. Of course, one of the most Left leaning/BlueprintNC friendly outfits in NC is promoting the American Bridge piece.
Here is a snippet from the email below- by the way, nice typos guys! Might want to spell check next time. I've bolded them so you can take note.

From: "Gerrick Brenner" <admin@progressnc.org>
Date: Jul 23, 2014 3:37 PM
Subject: VIDEO: Tillis in DC This AM
Friend,
You won't believe this. We just got video of Speaker Thom Tillis exiting a big DC fundraiser this morninig. Instead of doing his job in Raleigh and fixing the budget stalemate, he's being wined and dined by DC lobbyists and big special interests. Check it out: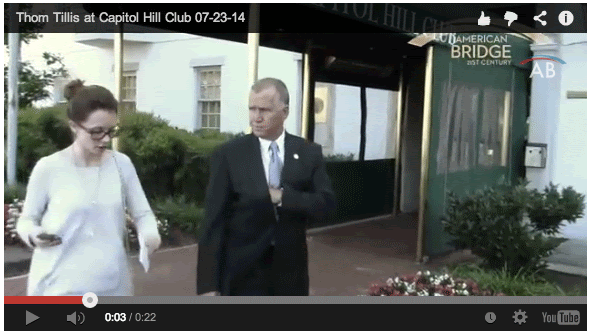 While he skips town to run for U.S. Senate, Tillis is now warning that there might not be a budget deal at all. He's too busy fundraising to worry about the thousdands of teachers he promised raises to.
*SNIP*

Oh, you really got him, American Bridge… he's walking down a sidewalk. So evil…or something. Boring. It's not like they caught him screaming at and assaulting a student or anything.
I'm not really sure why American Bridge or Progress Action NC think that this is some kind of big shocker. After all, Tillis has to keep up with the outside money and Dark money flowing into Hagan's campaign. It's not like Tillis is hiding from North Carolinians like Hagan did during the shut down when she went dark for 9 days and turned out to be fundraising with lobbyists in D.C. while North Carolina businesses were being forced to close by the government. Later that same  month, Hagan hit NYC for a fundraiser held by the liberal group Emily's List.
Oh and by the way….
ICYMI MT @j_hauser9: Top Dem donor to dark $$ group benefiting @SenatorHagan now under investigation. http://t.co/JZkT2lNVHv #ncsen #ncpol

— Stacey-SisterToldjah (@sistertoldjah) July 24, 2014
If you enjoyed this article, you should really check out other pieces written by Da Tech Guy's Magnificent Seven writers and maybe hit that tip jar!
A.P. Dillon (Lady Liberty 1885), is a Conservative minded wife and mother living in the Triangle area of North Carolina. A.P. Dillon founded the blog LadyLiberty1885.com in 2009. After the 2012 election, she added an Instapundit style blog called The ConMom Blog. Mrs. Dillon's writing, in addition to Da Tech Guy's Magnificent 7, can also be found at StopCommonCoreNC.org, WatchdogWireNC and WizBang. Non-political writing projects include science fiction novellas that are, as of yet, unpublished. Her current writing project is a children's book series.